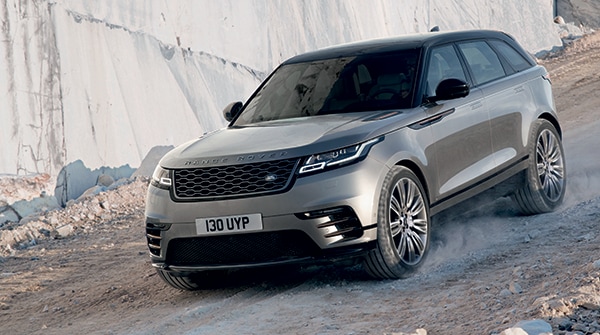 Land Rover is known for building luxury SUVs that can climb rocks and boulders as easily as they can climb your driveway. For drivers who don't plan on traversing the unpaved paths of upstate New York any time soon but still want the comfort and style of a Range Rover, there's a new kid in town.We're excited to introduce Albany drivers to the 2018 Land Rover Range Rover Velar, a lightweight yet solidly built ute with a minimalist design that doesn't undermine its luxury status.
You can reserve yours today and be the first one in your neighborhood to own the all-new Velar, but first you might want to check out our sneak peek so you know what to expect from this exciting new SUV:
Styling
The 2018 Velar isn't totally unexpected in its design, having definitive Range Rover aesthetics, but it does stand apart from the rest of the lineup. "We call the Velar the avant-garde Range Rover. It brings a new dimension of glamour, modernity, and elegance to the brand," Land Rover Chief Design Officer Gerry McGovern told Auto Week. With bold, stand-out proportions and exterior features like flush door handles, an integrated rear spoiler, and a continuous waistline, it's as modern as they come. A foil-stamped grille and a floating roof are elegant flourishes on an otherwise sleek, seamless design.
Interior
Stepping inside the all-new Velar is like entering your own private
sanctuary, with a carefully designed center stack and dash, expertly crafted materials, and a Sports Command Driving Position that instills confidence and authority wherever you go. Range Rover designers crafted the Velar's interior for comfort and relaxation up front and in the rear. Independently operated twin sliding armrests, minimalist controls, and the option for a sliding panoramic roof make it the ultimate road trip ride, while available Windsor leather with a signature Diamond Cut pattern makes it a virtual work of art. Drivers will also have the option for Configurable Ambient Interior Lighting, which lets you choose between 10 colors to set the mood for your journey.
Performance
The Velar P250 is powered by a 2.0-liter 4-cylinder turbocharged engine that makes 247 horsepower and 269 lb-ft of torque. It features an intelligent Continuously Variable Valve Lift system that improves engine efficiency and aspiration, and works in conjunction with dual independent variable cam timing for optimal power. This model goes from zero to 60 in 6.4 seconds.
You'll also have the option for the Velar P380, a 3.0-liter V6 supercharged engine that churns out 380 horsepower and 332 lb-ft of torque, and goes from zero to 60 in 5.3 seconds. It features a Roots-type twin vortex supercharger for ultimate responsiveness and a spray guided direct injection system for optimal air-fuel mixture, resulting in improved combustion and power. Both options have an 8-speed automatic transmission.
Tech and Entertainment
The 2018 Velar comes with an updated InControl infotainment system, as well as dual high-definition touchscreens, interactive driver display, Head-Up Display, and Rear Seat Entertainment with two 8-inch screens, trip status indicator, and four WhiteFire digital wireless headsets. The Velar is also available with a Meridian Surround Sound System with 17 speakers and a dual channel subwoofer.
For your safety, the Velar is equipped with Autonomous Emergency Braking, Lane Departure Warning, Cruise Control with Speed Limiter. It's also available with Adaptive Cruise Control, Blind Spot Monitor, Traffic Sign Recognition, Lane Keep Assist, Blind Spot Assist, and parking aids.
Pricing
Starting at $49,900 MSRP