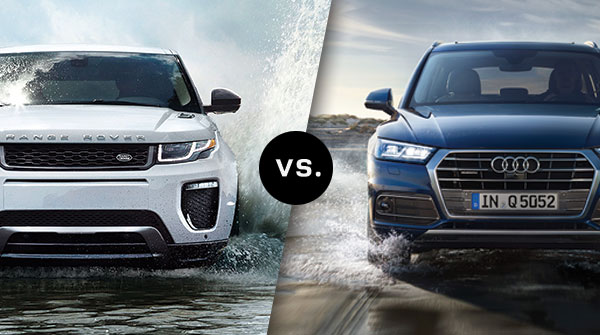 Albany drivers shopping for a luxury crossover SUV have some great options to choose from, which doesn't make it easy to decide. If you're comparison shopping, it helps to know which areas are most important to you from the start. We find that for most families, safety and performance are top concerns.
Safety and Tech
Range Rover Evoque
The 2017 Evoque has a foundation of Protection Systems on each model, designed to keep all passengers safe in the event of a collision. To augment that, Land Rover engineers added an advanced system of active driver assistance technology to help drivers avoid accidents altogether. Available safety tech includes a Head-Up Display, Traffic Sign Recognition, Lane Keep Assist with Autonomous Emergency Braking and Driver Condition Monitor, Adaptive Cruise Control, Blind Spot Monitor with Reverse Traffic Detection, Full Park Assist, 360-degree Parking Aid, Surround Camera System, and Adaptive LED lighting.
Audi Q5
The 2017 Q5 is equipped with Audi's branded safety systems, including pre sense basic, pre sense city, vehicle exit assist, rear cross traffic assist, and side assist. It also comes available with camera and parking assist systems. However, the Q5 is not available with a Head-Up Display, Traffic Sign Recognition, or Lane Keep Assist.
Performance and Efficiency
Range Rover Evoque
The Evoque is equipped with a 2.0-liter turbocharged inline-4 engine that makes 240 horsepower and 251 lb-ft of torque. It comes standard with full-time all-wheel drive and has a smooth-shifting 9-speed automatic transmission with steering wheel-mounted paddle shifters.
According to EPA estimates, the Evoque coupe gets 21 MPG city and 29 MPG highway, while the convertible gets 20 MPG city and 28 MPG highway. (Speaking of convertibles, this option is unique to the Evoque in the luxury crossover segment. The Q5 does not have a convertible model.)
Audi Q5
The 2017 Q5 has three engine options, and the base is a 2.0-liter turbocharged inline-4 that makes 220 horsepower and 258 lb-ft of torque. It also features standard all-wheel drive, but has an 8-speed automatic transmission. Upper trims come available with two versions of a supercharged V6 engine, but that option adds more than $12,000 to the base price.
The Q5 gets an EPA-estimated 20 MPG city and 27 MPG highway, giving the Evoque a slight edge in terms of efficiency.
Pricing
Range Rover Evoque
Starting at $41,800 MSRP
Audi Q5
Starting at $40,900 MSRP