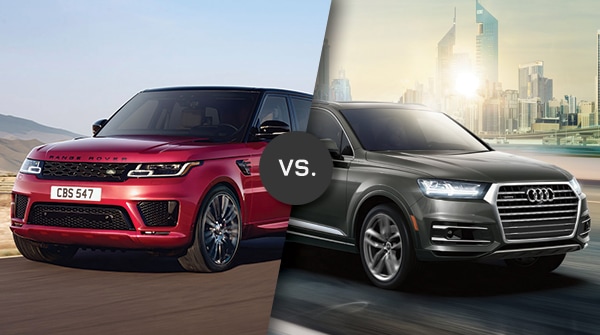 Both the 2018 Range Rover Sport and the 2018 Audi Q7 are at the top of their class and are getting a lot of attention from drivers in Albany, New York. Of course, there are some similarities between these two SUVs, but there are also some fundamental differences. Find out more about the Range Rover Sport and Q7 matchup and then reach out to us at Land Rover Albany to schedule your test drive and find out for yourself why the 2018 Range Rover Sport is the superior choice.
Comfort & Convenience
Range Rover Sport
As you can come to expect with Land Rover, the 2018 Range Rover Sport comes standard with many premium technology features and a luxurious look and feel. Leather upholstery comes standard, as does Land Rover's top of the line InControl Touch Pro Due infotainment system with two stacked 10-inch high-resolution touchscreens. You'll also get power adjustable front seats, Bluetooth phone and audio connectivity, and better fuel economy than what we see with the Audi Q7.
Audi Q7
The 2018 Audi Q7 comes standard with a 7-inch central display and a 7-inch driver information display. You'll also find leather upholstery and wood details even in entry-level Q7s giving drivers an elegant look and feel. You'll have your choice of eye-catching wheels ranging in size from 18 to 20 inches. Finally, the clamshell liftgate is still present on this model.
The Q7 is three rows, but as you would expect, the best seats are the front two. You can fit three adults in the second row, but the third row is tight and leaves more to be desired with support and comfort. Even with the third row folded down, you're still only looking at 37.5 cubic feet which is something to consider if you are buying this as a family vehicle.
Performance
Range Rover Sport
The 2018 Range Rover Sport is sleek, classy, and all around a great looking vehicle, but that's not all it has going for it. The Range Rover Sport clearly outperforms the Q7 when it comes to pulling heavy loads and out-muscles the Q7 when it comes to horsepower. Additionally, Land Rover's Terrain Response system handles off-road driving better than anyone else on the market. The system lets the driver choose from one of five settings and then takes over from there. All Range Rover Sports can ford up to 27 inches of water, and the Supercharged model can take you from 0 to 60 in less than 6 seconds.
Not just a pretty face, the 2018 Range Rover Sport delivers in all other aspects as well making it an excellent choice for people looking for an exceptional off-roading vehicle, a comfortable and safe family ride, or just something that will turn heads.
Audi Q7
The Audi Q7 is the largest vehicle in Audi's lineup but doesn't handle like that. One of the best things that the Q7 has going for it is its quick steering and tight turning radius. You also have the Quattro all-wheel-drive system at your disposal that will provide exceptional grip in any driving condition. These qualities make it feel less like you're driving a seven-passenger vehicle and more like you're driving a compact crossover.
There are two versions of Audi's 3-liter supercharged V6 that are available to you. The first is a 280-hp engine in regular 3.0T models. The second is a 333-hp high-pressure-boost version available in S-Line models. There is a 3-liter diesel V6 option as well.
At the end of the day, they are two remarkable vehicles. If you're just looking at base models, you get more in the Range Rover Sport. You'll get impressive performance, the prestige of the Range Rover brand, and the high-class look sure to turn heads.
Pricing
Range Rover Sport
Starting at $73,350
Audi Q7
Starting at $49,900