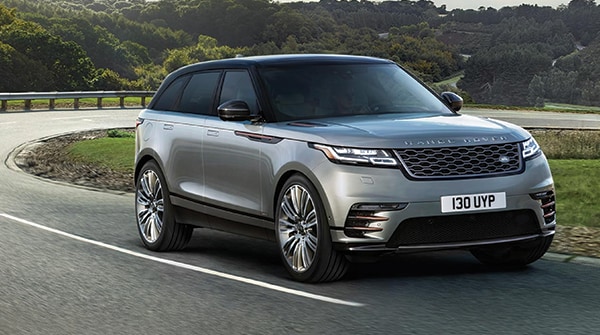 The new 2018 Land Rover Range Rover Velar stands out from the crowd in more than one aspect. Sure, the Velar has an eye-catching design, but it also boasts many high-tech and safety features all wrapped up in a luxurious package.
If you're looking for a mid-size luxury SUV, the Velar might be precisely what you're looking for.
Performance


The base model offers a gas-powered turbo-4 engine that makes 247 horsepower and 269 lb-ft of torque. The base model has a fuel economy of 21 MPG/city, 27 MPG/hwy, and 23MPG/combined and is paired with a standard 8-speed automatic. This engine can tow up to 5,200 pounds.
However, most customers will choose to upgrade their Land Rover Range Rover Velars to the supercharged V-6 engine which makes 380 horsepower and 332 pound-feet of torque. This engine isn't quite as fuel efficient as the base model but comes in at 18 MPG/city, 24 MPG/hwy, and 20 MPG/combined. With this engine, the Velar will for from 0 to 60 mph in a mere 5.3 seconds. This engine can tow a little bit more than the base model and will top out at about 5,500 pounds.
Lastly, the Range Rover Velar is also available with a 2.0-liter turbodiesel engine which will produce 317 lb-ft of torque and gets 26 MPG/city, 30 MPG/hwy, and 28 MPG/combined.
Feature and Technology
The base Velar model comes equipped with 18-inch wheels, synthetic leather upholstery, a leather-wrapped steering wheel, keyless ignition, automatic dual-zone climate control, an eight-speaker audio system, a 5.0-inch driver information display, and dual 10-inch touchscreens in the center console.
The next step up in trim level is the Velar S. The Velar S has 19-inch wheels instead of the 18-inch wheels that come standard with the base model as well as power adjustable front and rear seats, leather upholstery, an uprated audio system, navigation, and telematics services. All three powertrains are available at this trim level.
If you're looking for a little more in your Velar, look at the R-Dynamic SE trim level. These have 20-inch wheels, a 17-speaker audio system, a 12.3-inch driver information center that replaces the analog gauges, perforated leather upholstery, and aluminum interior accents as well as advanced safety features and parking sensors.
Finally, we get to the top-of-the-line Velar, the First Edition. This trim level comes with so many bonus features that it would be silly to try to list them all out here, but we will give you the highlights. The Velar First Edition comes with 22-inch wheels, a heated windshield, a 23-speaker sound system, a surround-view camera system, a Fitbit-style "activity key" that can be used instead of a typical key fob, front seat massage functions, heated steering wheel and many more luxurious upgrades.
Whether you're thinking about the base model of the Velar First Edition, one thing is sure – you'll be cruising around Albany in style.
Visit Land Rover Albany today to test drive your new 2018 Land Rover Range Rover Velar!
Pricing


Starting at $49,900