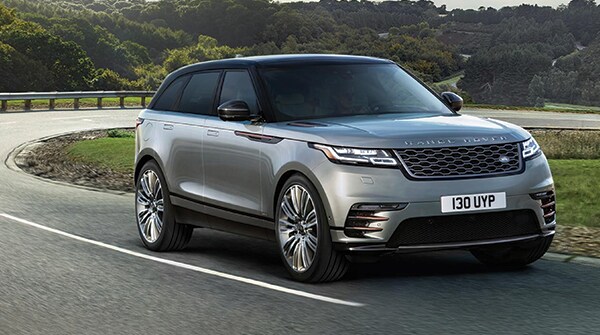 The 2019 Range Rover Velar brings style to the road no matter where you take it. The Velar is capable both on and off the road and will be the most stylish vehicle no matter where the road leads you. Below we will cover all the details for the
2019 Range Rover Velar
.
Performance
The 2019 Range Rover Velar comes standard with a turbocharged 2.0 liter four cylinder engine that powers the vehicle with 247 horsepower and 269 pound-feet of torque.
If you are looking for a high-performance vehicle, the Velar's supercharged 3.0-liter V6 may be the option for you. This engine churns out 380 horsepower and 332 pound-feet of torque. This V6 option is paired with an adjustable and highly accomplished air suspension system. The adjustable system can raise or lower the 2019 Velar by 3 inches, giving your Velar an overall ground clearance of 9.9 inches.
There is also an available option for you Velar to come with Land Rover's turbodiesel four-cylinder engine. This engine is made for off-roading, generating 180 horsepower and 317 pound-feet of torque. The turbodiesel engine option is fuel-efficient and has an EPA Estimated fuel efficiency of 30 MPG highway.
Each of the three engine options is matched with an 8-speed automatic transmission and comes standard with all-wheel drive. The 2019 Range Rover Velar is rated to tow up to 5,200 pounds with the turbo four and 5,500 pounds with the V6.
Features & Technology
The 2019 Range Rover Velar offers drivers five different trim levels: standard, S, SE, HSE, and the limited-production First Edition. Each of the three engines is available in S, SE, and HSE trim, the standard version comes with the gas-powered four-cylinder engine, and the First Edition trim is only available with the V6 engine.
Standard offerings on all 2019 Velar models automatic emergency braking, a rearview camera, and lane-departure warning. There are available options for adding blind-spot monitors, drowsy driver monitoring, traffic sign detection, adaptive speed limiter, adaptive cruise control, blind-spot assist, and lane-keep assist.
The cabin of the Velar has leather seats in most trims and a leather-covered upper dashboard. The standard model uses synthetic leather and suede, but the interior still feels expensive. In the 2019 Velar, the central part of the dash holds two 10-inch infotainment touchscreens. On upper trim levels, there will be a 12.3-inch infotainment screen.
Safety
As always, Range Rover has their drivers safety in mind. The
2019 Range Rover Velar
is standard with anti-lock brakes and stability control. The stability control feature equips your car with a sensing system that instinctively senses when the vehicles handling boundaries have been exceeded. The system decreases engine power and applies brakes to help drivers from losing control of their Velar.
The Range Rover Velar is also equipped with a security system that can anticipate and detect unwanted vehicle intrusion. The system has an ignition device that disables the engine from starting if the correct original manufacturer key is not used.
If you think this vehicle is the perfect one for your on and off-road adventures, come to visit us at Land Rover in Albany, New York, and our sales associates will set you up with a test drive.
Pricing
Starts at $49,600