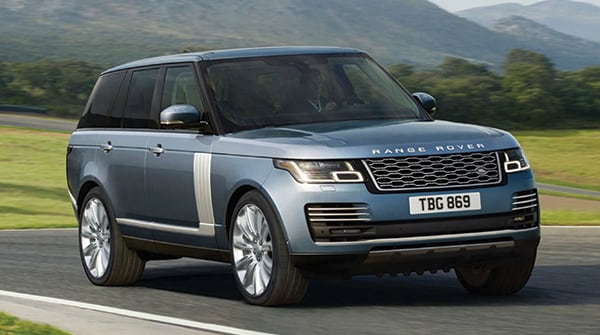 We're just going to come out and say it – the 2019 Land Rover Range Rover is the best Range Rover to date. It's a lofty claim considering the vehicle's history but if you're in the market for one of the most versatile vehicles on sale today, read on to learn about what makes the new 2019 Range Rover so great.
What's New
The most noteworthy new offering for the 2019 model is that you can now choose to order a plug-in hybrid powertrain that has an estimated 31 miles of electric range. This model only comes in one trim, but there are lots of available features that allow you to truly customize your Range Rover. Some of the most noteworthy upgrades include heated and ventilated front seats, high-end exterior paint upgrades, a console refrigerator, massaging front seats, and four-zone climate control. Additionally, you might want to consider the Drive Pro, Park Pro, or Vision Assist packages which all arm you with the best of the best concerning safety features.
Comfort & Convenience
The 2019 Range Rover comes standard with Land Rover's Touch Pro Duo system which is loaded with tons of impressive features. While the sheer volume of the features available to you can be slightly overwhelming, with a little time spent playing around with it, we do not doubt that you'll be pleasantly impressed with all the Touch Pro Duo system has to offer.
The interior of the 2019 Range Rover is very roomy and feels, as you would expect, quite luxurious. You will easily be able to accommodate five adults so no one will have to argue about who has to sit in the back seat.
Driving
Driving the 2019 Range Rover is easy, fun, and comfortable. The ride is quiet, which might be surprising considering the vehicle's shape, but something that we find quite relaxing about driving this vehicle. It handles like a dream and makes turning in tight spaces easy as can be.
Our favorite feature? The expansive windows combined with high seating that allow the driver to see everything. There will be no surprises, especially if you choose to add the Multiview camera systems that give drivers even more visibility.
Chances are we've peaked your interest with this review of the new 2019 Land Rover Range Rover; so what's next? Give us a call at Land Rover Albany to schedule a test drive today and see for yourself why we're calling this the best Range Rover ever.